Do you ever have a taste for something? Do you go to All Recipes and put in the ingredients that you think you want to use and do a search? I did yesterday and came up with a GREAT recipe that just hit the spot last night. What I found was Tex Mex Chicken and Zucchini. I didn't find it though on All Recipes. I found it here.....https://ifoodreal.com/chicken-and-zucchini/
We are always watching our carbs as we've found that helps us keep our weight down. This recipe had all of the flavors I was searching for. It went together fairly quickly with things that I had on hand. Many of you might not have all the ingredients in your freezer/pantry, but they are easily accessible from your local grocery.
This dish was delicious! Cooked with diced tomatoes, cumin, taco seasoning, topped with cheese and fresh herbs. I added just a cup of shredded organic Colby Jack cheese and a few handfuls of cilantro and green onions. Fresh herbs are a great way to add flavor to any dish without extra calories.
Tex Mex Chicken and Zucchini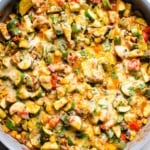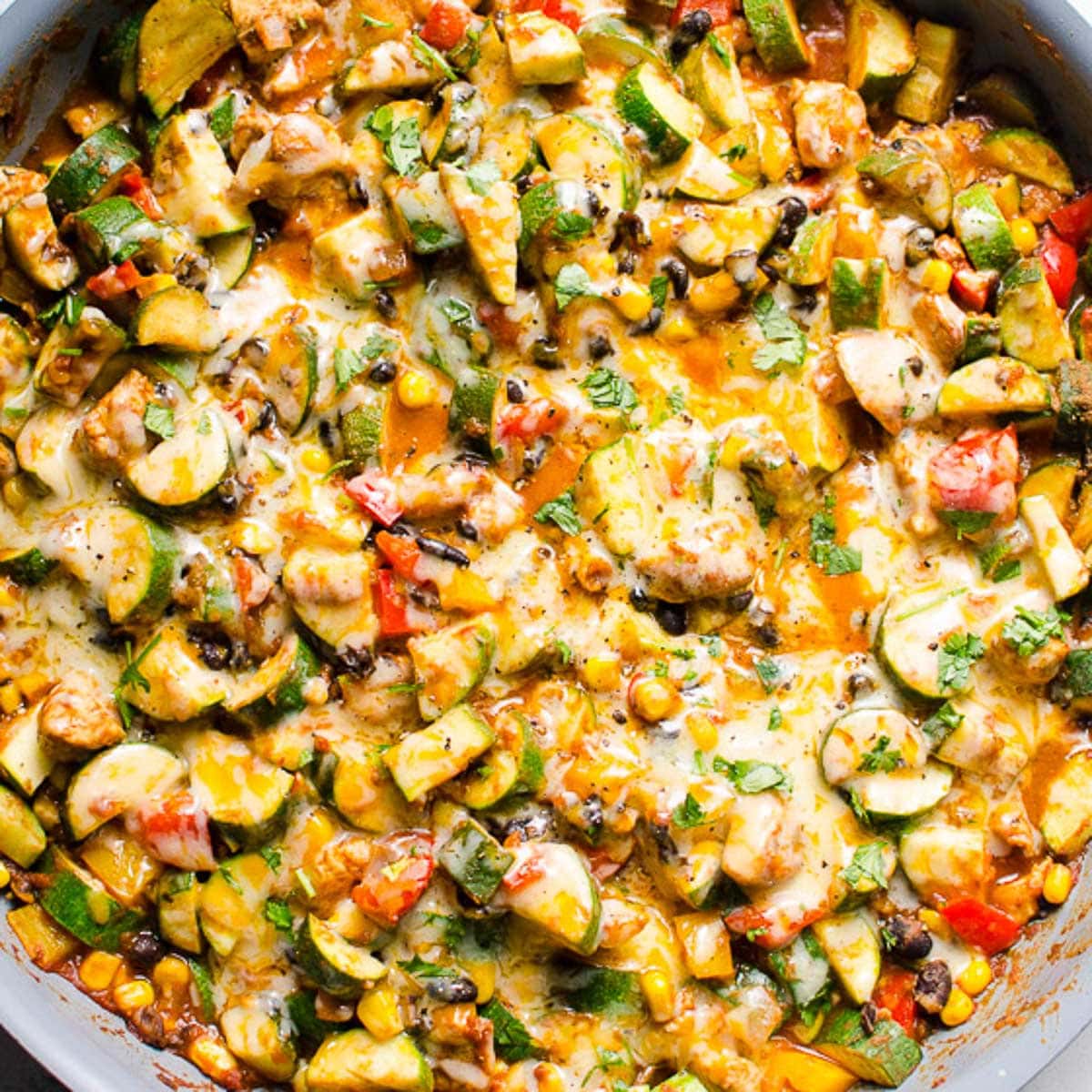 Low carb chicken and zucchini recipe cooked in one skillet with black beans, corn, fresh herbs, taco seasoning and melted cheese on top.
Author:

Prep Time:

5 minutes

Cook Time:

25 minutes

Total Time:

30 minutes

Yield:

6 servings
Ingredients
1 tbsp avocado or coconut oil
1 medium onion, finely chopped
3 large garlic cloves, minced
2 medium bell peppers, chopped
1 lb boneless & skinless chicken breasts, cut into 1″ pieces
1 cup corn, frozen or fresh
2 large zucchini, diced
14 oz can black beans, drained & rinsed
14 oz can diced tomatoes
1 tsp taco seasoning
1 tbsp cumin, divided
1 tsp salt
Ground black pepper, to taste
1 cup Tex Mex or Colby Jack cheese, shredded
1/2 cup green onions, chopped
1/2 cup cilantro, chopped
Instructions
Preheat large deep skillet on low – medium heat and swirl oil to coat. Add onion, garlic and bell pepper; saute for 3 minutes, stirring occasionally.
Move vegetables to the side of the skillet and add chicken. Sprinkle with 1 tsp cumin, salt and black pepper. Cook for about 5 minutes, stirring occasionally.
Add corn, beans, tomatoes, zucchini, taco seasoning and remaining cumin. Stir, cover and cook on low-medium for 10 minutes.
Sprinkle with cheese, cover and cook for a few minutes or until cheese has melted. Top with green onion and cilantro. Serve hot, on its own or with brown rice or quinoa.
Store: Refrigerate covered for up to 3 – 4 days.
Did you make this recipe? Please give it a star rating in the comments.
An Elite CafeMedia Food Publisher